One thing we learned from the 2016 Election is that you can't trust polls.
Trump's victory—after numerous polls predicted otherwise—revealed pollsters weren't as honest as we thought.
There is a good reason for that:
Polling often oversamples certain groups to get their desired result and also, we find they sample more liberals than conservatives, or more of one ethnic group over another.
Add to that the fact most polls disregard first-time voters, and you have a situation where the numbers just aren't realistic.
But there's something to note from a recent rash of polls from Quinnipiac; where our economy is concerned, Trump is definitely getting a more favorable view than his predecessor.
From Townhall:
"Early on in 2017, Obama was winning the strong majority of credit for an improving US economy.
By the fall of last year, a double-digit majority (50/37) of Americans credited Obama over Trump for the improving US economy.
Toward the end of January, Gallup showed Trump getting close to pulling even with his predecessor. And now that spring has sprung?
Trump has shot out into the lead, and it's not close. Look at the evolution in public sentiment over the last year:
Who is more responsible for the state of the economy? (via new Quinnipiac poll)

One year ago:
Obama 66%, Trump 18%

Six months ago:
Obama 50%, Trump 37%

Now:
Trump 54%, Obama 34%

— Ryan Struyk (@ryanstruyk) April 11, 2018
And some of the internals that add up to produce that top line numbers are…borderline incredible:
A plurality of Democrats (!) in new Quinnipiac poll say Trump is more responsible for the current economy (46%) than Obama (43%).

— Ryan Struyk (@ryanstruyk) April 11, 2018
…Trump's program of deregulation and tax reform have unquestionably improved the economic climate in America, both for consumers and businesses (last month's fairly tepid jobs report notwithstanding).
So the great news for the White House is that Americans are attributing the economic situation to the president."
Furthermore, 60 percent of those polled say the nation's economy is either "good" or "excellent," and 78 percent say their personal financial situation is "good" or "excellent."
Hard to get much better than that, right?
Considering how Quinnipiac, like most colleges, heavily favors Democrats over Republicans, this is pretty telling.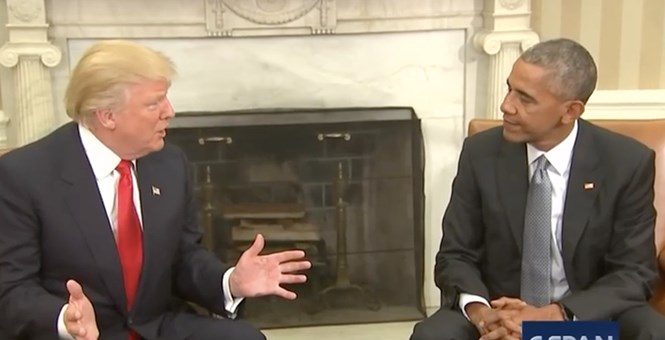 At first, pathetic liberals refused to give Trump any credit, claiming the economic upswing was all Obama's doing. Why the economy struggled during his eight years in office—they have no answer.
But after Trump's war on regulation and tax cuts, few people can deny his impact on the economy:
Unemployment continues to plummet, breaking records. Jobs are coming back to the U.S. And the trade debate with China is starting to work in our advantage.
Even Democrats have to give Trump credit for that.
Source: Townhall