There is a reason President Trump takes such a hard stance on illegal immigration.
Liberals work overtime to protect people who enter the United States illegally. But the fact remains: Americans are in constant danger.
Just take the story of Luis Enrique Monroy Bracamontes. This illegal immigrant easily entered the U.S., time and again. It didn't matter that he was caught and deported. He treated the border like a revolving door.
He had so little disrespect for our laws, he had no problem murdering police officers. Even though he is now on trial for the killings, he shows no remorse. In fact, what he said in court will curdle your blood.
From Fox News:
An illegal immigrant began his murder trial for the 2014 killings of two Northern California sheriff's deputies on Tuesday with a profanity-laced rant, calling a partner of one of the slain officers a "coward…"
Luis Enrique Monroy Bracamontes, 37, the alleged killer, interrupted the court when he grinned and called Brown a "coward."
"I wish I had killed more of the mother——-s," Bracamontes told the court. He continued, "I will break out soon and I will kill more, kill whoever gets in front of me…There's no need for a f—ing trial."
Bracamontes defense attorneys cited the outburst as more evidence that their client is unfit to stand trial…
Bracamontes is from Mexico, and repeatedly entered the United States illegally. His wife is an American citizen and faces life in prison if found guilty.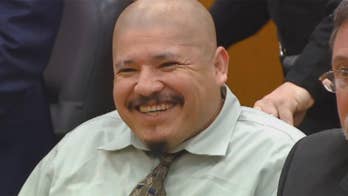 His defenders have the audacity to blame Trump. They claim this killer cannot get a fair trial because of the "hostile" sentiment shared by the President. Um, what? Your client not only admitted to killing two cops, but wished he killed more.
Trump's not hurting your case, lawyers, your own client is.
Even though this man killed law enforcement officers in cold blood, it remains to be seen whether he'll face the death penalty. While the death penalty is on the table, California courts have a terrible track record when prosecuting heinous killers.
You might remember the recent trial of Kate Steinle's killer. Not only did he not get the death penalty, those idiots in San Francisco let him off!
This killer promised that no matter what, he'll get out and kill again. He made that very clear in court. Sentencing him to life in prison might not be enough. Most likely, he should face the death penalty.
But it probably won't happen. California loves to protect criminals. It doesn't matter what kind of damage they do to society.
Source: Fox News